The TechFlex Rip-Stop Silver Jacket Flex Duct has a metallic, polyester-vapor barrier with a special "rip-stop" scrim reinforcement.
Heavy duty "Tri-Directional" scrim
provides great tensile jacket strength for extra durability.
>
GreenGuard Certified
>
Johns Manville Formaldehyde-free Insulation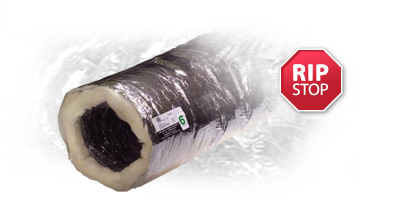 Our Rip-Stop contractor duty flex features an over sized inner core, for faster and easier installation. With galvanized metal wire for greater core reinforcement, it's designed for use in commercial, residential & manufactured home industries.
TechFlex Brochure
(PDF 1.7MB)
R-Value
DIAMETER
3"
4"
5"
6"
7"
8"
9"
10"
12"
14"
16"
18"
20"
22"
4.2
•
•
•
•
•
•
•
•
•
•
•
•
•
6.0
•
•
•
•
•
•
•
•
•
•
•
•
•
•
8.0
•
•
•
•
•
•
•
•
•
•
•
•
•
•